This post contains affiliate links which means that we will make a small commission if you purchase a product after clicking on any of them, at no extra cost to you. Thank you for your support.
Se acerca San Valentín y todas queremos estar super trendy para celebrar el día del amor y la amistad. Este próximo 14 de febrero llevarás tu mejor look para deslumbrar a esa persona especial y de seguro querrás utilizar algún detalle rojo o con corazoncitos. Para que complementes tu outfit para Valentines, queremos presentarte estos fabulosos bolsos con corazones o en forma de corazón. ¡Te verás espectacular!
Las carteras con formas originales han estado de moda durante los últimos años, aprovecha la tendencia y lleva tu bolso con corazones. Y no te limites, no tiene que ser solo en San Valentín, puedes llevar tu cartera en forma de corazón durante todo el año.
Los grandes diseñadores han lanzado sus colecciones de carteras con corazones y han gustado tanto, que estos heart bags forman parte permanente de sus exclusivas colecciones. Así que si llevas un look sofisticado para Valentines, no dudes en llevar tu designer handbag  como este de Dolce & Gabbana pink, que puedes conseguir en nustros links de afiliados de Amazon. ¡Anímate a llevar red or pink!
Cartera en forma de corazón
Si llevas un look casual para San Valentín, igual podrás llevar tu cartera en forma de corazón. Nada como unos jeans con blusa blanca y una cartera roja o vino.  Y si eres amante de los jumpsuits, un enterizo de denim te irá a la perfección con tu cartera roja en forma de corazón. ¡Me encanta!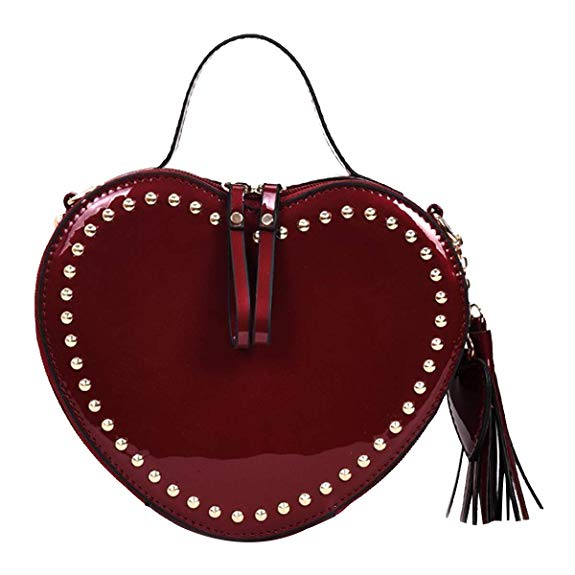 Bolsos con corazones para un look casual
Las carteras con estampados en corazones lucen muy juveniles y modernas. No dudes en llevar un cross body bag con corazones en tu próximo viaje o paseo por la ciudad. ¡Se ven super cute!
Consique tus bolsos con corazones
en nuestros links de afiliados de Amazon.