Mi amiga Enriqueta es la mejor cocinera que conozco. Soy fanática de su blog Savoir Faire by EnriLemoine porque tiene muchas recetas muy fáciles de hacer, sobre todo para las que no somos muy diestras en la cocina. Hoy quiero presentarles la mejor receta para un delicionso cheesecake de mojito que encontré en su blog, lo mejor de todo es que, ¡no hay que hornearlo! Así que muy pronto trataré de hacer.
Receta de Cheesecake de mojito de Enri Lemoine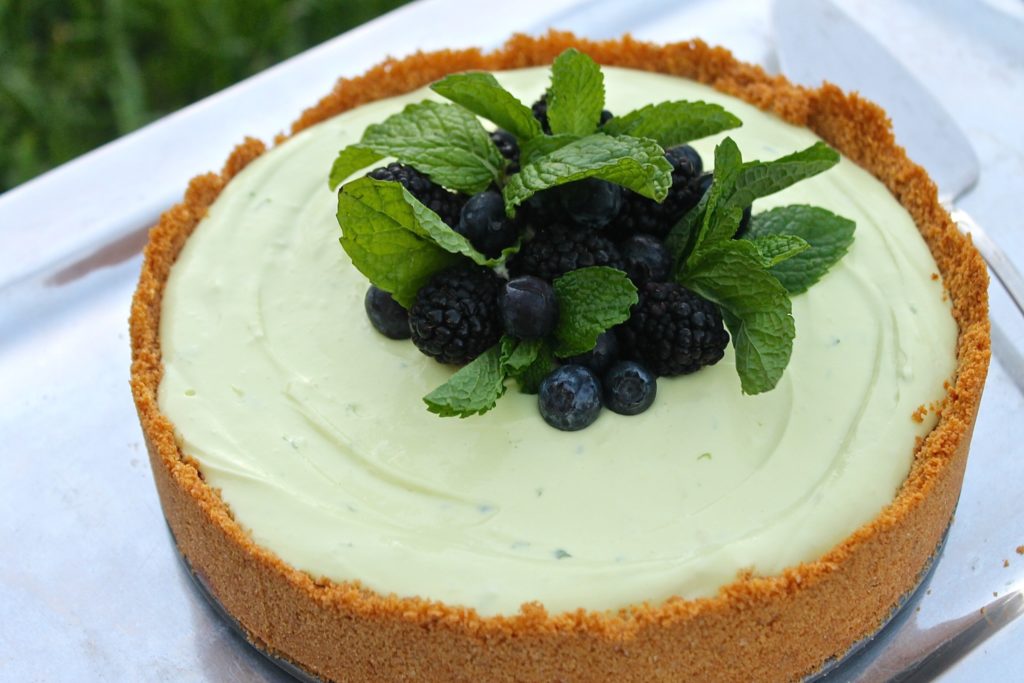 Ingredientes:
Para la base
2 tazas de galletas Graham molidas finamente
1 cucharadita de azúcar
1 pizca de sal
7 cucharadas de mantequilla derretida
Para el relleno
2 paquetes de 8 oz. de queso crema
1 lata de 14 oz. de leche condensada azucarada
1 cucharadita de extracto de ron
4 cucharaditas de jugo de lima (limon verde), fresco
la ralladura de la piel de 2 limas
Para el adorno
10 moras
20 arándanos azules
3-4 ramitas de yerbabuena
Elaboración paso a paso
Precalienta el horno a 375˚F.
En un tazón, con un tenedor, combina todos los ingredientes para la base, hasta que parezcan arena mojada.
Agrega la mezcla de galletas a un molde para cheesecake de 9 pulgadas de diámetro, y distribuye de manera uniforme. Haz un movimiento con el puño de la mano paracrear una pared de galletas por las paredes del molde.
Asegúrate de que la mezcla de galletas cubra el fondo del molde y utilizando una taza medir, aprieta los bordes y la parte inferior para obtener una base firme.
Hornea durante 8 minutos hasta que la base comience a dorarse. Deja enfriar completamente.
En el tazón de una batidora de pie, bate el queso crema con la leche condensada hasta que se forme una mezcla cremosa y uniforme. Agrega el extracto de ron, el jugoy la ralladura de lima y bate hasta que todo esté bien combinado. Agrega el colorante para alimentos una gota a la vez y continua batiendo hasta que logres el color deseado.
Vierte el relleno de queso crema en la base, cubra con una película de plástico y refrigera durante al menos 3 horas.
Congela por lo menos 30 minutos antes de servir.
Decora con las ramitas de menta y las bayas.
¡Recuerda conseguir to batidora manual para mezclar los ingredientes!
Encuentra las últimas tendencias de moda en USA, Puerto Rico, Miami, Orlando, Colombia, México, República Dominicana, Panamá, España.
This post contains affiliate links which means that we will make a small commission if you purchase a product after clicking on any of them, at no extra cost to you. Thank you for your support.