Cada temporada, cada estación, viene marcada por tendencias muy especiales en cuanto a moda se refiere. Este verano estará caracterizado por prendas que destacan cada vez más el uso o la incorporación de eyelets u ojales, bien diferenciados.
Los eyelets confieren personalidad al vestido. Le dan un toque divertido y mucho carácter. Los ojales o eyelets se han incorporado al vestir, como parte de la creación y el ingenio de los diseñadores, que buscan cada día, proponer la diferencia usando recursos tan tradicionales y conocidos como los ojales. Allí está el desafío.
Las blusas con eyelets arrasan esta temporada
Vestidos, pantalones, shorts, faldas, t-shirts…Todas las prendas  lucen un mundo con los eyelets u ojales metálicos, dando vida a un remate de ruedo, o dibujando una figura  en la blusa o vestido… Hay ojales para todos los gustos.
Fabulosos vestidos con eyelets
La temporada nos deja ver en el street style, prendas con ojales decorativos color plata, dorado o negro, a manera de círculos, como incrustaciones. Muchas veces, los eyelets aparecen más bien en forma de tachuelas, dibujando formas en la prenda, en un diseño muy particular.
Fashion influencers y las it girls más destacadas, muestran día a día el desenfado y la fresca ligereza de la ropa con eyelets.
Y es que las prendas confeccionadas con telas con eyelet son de por si frescas e ideales para combatir el calor de los meses mas calurosos del año.
No en vano el color por excelencia de la ropa confeccionada con telas con ojales o huequitos bordados es el blanco, aunque también el negro luce espectacular, lo mismo que el azul marino, que es otro color que por el tema marinero de asocia con la temporada veraniega.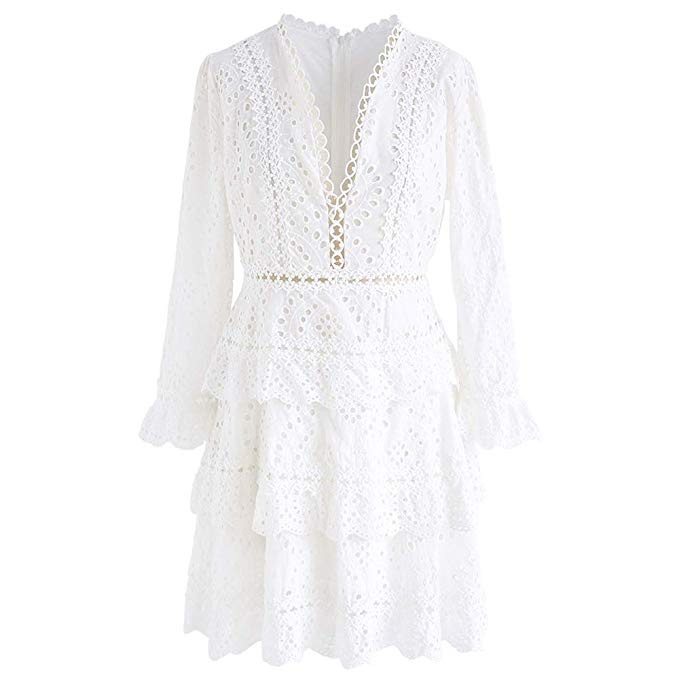 ¿Y a ti, cómo te gusta llevar la ropa de ojales? ¿Prefieres el blanco y el azul marino, o estás más en la onda de los eyelet metálicos?
Encuentra las últimas tendencias de moda en USA, Puerto Rico, Miami, Orlando, Colombia, México, República Dominicana, Panamá, España.
This post contains affiliate links which means that we will make a small commission if you purchase a product after clicking on any of them, at no extra cost to you. Thank you for your support.