This post contains affiliate links which means that we will make a small commission if you purchase a product after clicking on any of them, at no extra cost to you. Thank you for your support.
El Hard Rock Stadium será la sede del Super Bowl LIV el próximo 2 de febrero, donde el campeón de la Conferencia Nacional de Fútbol San Francisco 49ers jugará contra el campeón de la Conferencia de Fútbol Americano Kansas City Chiefs. Sin duda es el partido más esperado del año y disfrutarás el 'Superdomingo' con amigos y familiares. Ah, pero no olvides arreglar tus uñas para el Super Bowl. Pónte creativa y toma nota de las originales ideas de nail art que te presentamos.
A la hora de pintar tus uñas para el Super Bowl, lo más que necesitas es creatividad. Utiliza los colores de tu equipo favorito para crear un original nail art para lucirte mientras disfrutas del partido. Y ya sea que le vayas a los 49ers o a los Chiefs, vas a necesitar esmaltes rojo y dorado.
Nail art con motivo de los 49ers
Si le vas a los 49ers, puedes lograr un divertido diseño de uñas con los colores blanco, rojo y dorado. Ahora, que si el nail art no es lo tuyo, puedes conseguir originales calcomanías de tu equipo y pegarlas en tus uñas para facilitarte el trabajo. Otra opción es pintar tus uñas de blanco y dorado y colocarles brillito en color rojo. ¡Se verán geniales!
Diseños de uñas inspirados en los Chiefs
Si eres fanáticas de los Chiefs, también podrás crear originales diseños de uñas para el Super Bowl. Dile a tu nail artist que se ponga creativa, de seguro se va a botar haciendo un super diseño para el tan esperado día. Calcomanías, aplicaciones y mucho brillo para que tus uñas luzcan de espectáculo y armonices con los vestuarios de JLo y Shakira durante el halftime.
Bueno y si decides mantenerte neutral porque tu equipo favorito no llegó a la final, entonces diseña un exclusivo nail art con motivo de NFL. Combina tus uñas con rojo, dorado y blanco para que estés a tono con la gran celebración.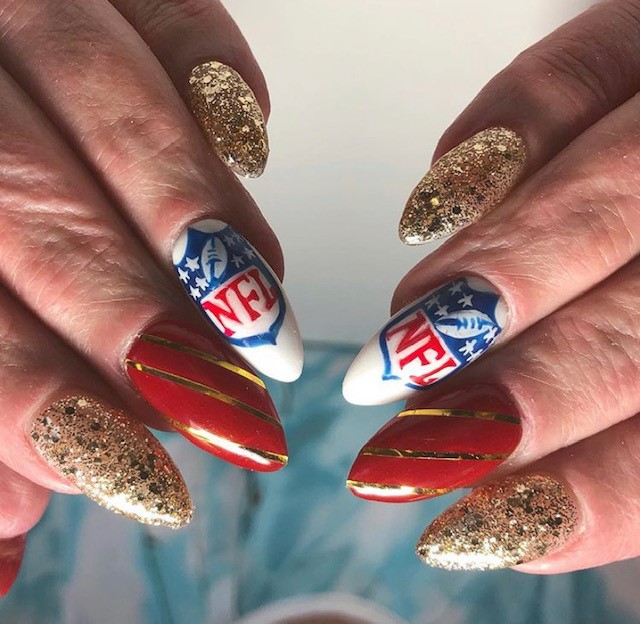 ¿Que te parecieron estos diseños de uñas para el Super Bowl?