Rainbow hair: llegó la moda del cabello arcoíris. Entre gustos y colores, no han escrito los autores y aunque el rainbow hair o la moda del cabello arcoíris no parecería ser una de estas tendencias que llega para quedarse, no es menos cierto que cada vez vemos más cabelleras teñidas como si se tratara de la crin de un unicornio.
El rainbow hair es perfecto para las Gen Z que se divierten con teñidos multicolores. Esta es una moda divertida que habla del desenfado de una generación que se expresa a través del cabello.
Si vas a optar por esta moda, tienes que tener en cuenta, especialmente ahora que viene el verano, que el rainbow hair es un estilo que requiere mucho mantenimiento. No sólo el color va perdiendo brillo e intensidad con cada lavada, es que se destiñe, por lo que debes usar buenos productos para mantener el arcoíris de colores en tu melena.
Para lograr los colores del arcoríris, el rainbow hair requiere de una decoloración previa al teñido, por lo que lo recomendable es acudir siempre a un especialista no sólo para lograr el color deseado, sino también para minimizar el riesgo de maltratar tu melena. Si optas por un cabello arcoíris, busca a un profesional  experto en coloración capilar para que se encargue de crearlo y mantenerlo.
Algunas opciones menos definitivas de las cuales tú misma puedes hacerte cargo sin correr riesgo alguno, consisten en aplicar mousses colorantes semi permanentes (se desvanecen rápidamente al término de varias lavadas) o recurrir a extensiones de colores: así lograrás el efecto que buscas, sin mayor complicación.
Si optas por la clásica decoloración y posterior teñido del cabello, ponte en manos de un especialista. En este caso, más que un estilista necesitas a un profesional colorista que incluso te haga pruebas en la parte interna de tu cabello, cerca de la nuca, para saber cómo se comportará tu cabello con cada tono que apliques.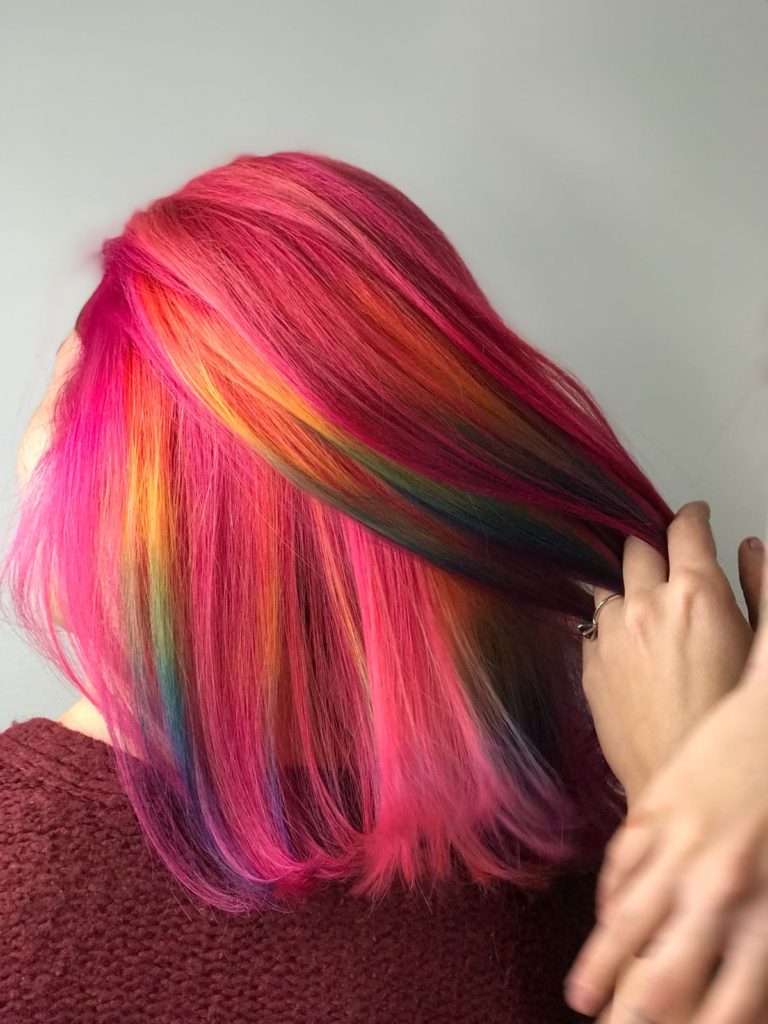 Tal como puedes ver en las fotos hay melenas arcoíris en intensos tonos brillantes y también las hay en tonos pastel.
Eso sí, una vez que tengas tu rainbow hair, serás el centro de la atención y blanco de todas las miradas. Cuando un cabello arcóiris está bien logrado luce espectacular, por decir lo menos.
Y tú ¿te atreverías a llevar un arcoíris en tu cabeza?
Algunos productos para hidratar tu rainbow hair:
Encuentra las últimas tendencias de moda en USA, Puerto Rico, Miami, Orlando, Colombia, México, República Dominicana, Panamá, España.
This post contains affiliate links which means that we will make a small commission if you purchase a product after clicking on any of them, at no extra cost to you. Thank you for your support.