This post contains affiliate links which means that we will make a small commission if you purchase a product after clicking on any of them, at no extra cost to you. Thank you for your support.
¿Qué son los sneakerdrilles? Estos zapatos que a todas  enamoran son la mágica fusión de las clásicas espadrillas y los cómodos sneakers. Las alpargatas tipo tenis han causado sensación en el street style donde vemos a las celebridades y fashion bloggers lucirlas con sus más atrevidos atuendos.
Las grandes casas de diseño como Loewe, Miu Miu y Gucci han lanzado con gran éxito sus zapargatas siendo Gucci una de las pioneras
Con gran variedad de diseños y colores, los ultra trendy sneakerdrilles combinan la comodidad de los sneakers con la elegancia de la espadrilla en un calzado casual y elegante.
Y es que las también conocidas como zapargatas, vinieron para quedarse y transformar nuestros atuendos casuales en chic y divertidos. Lleva tus zapargatas con jeans, con shorts de verano y con vestidos cortos van súper bien.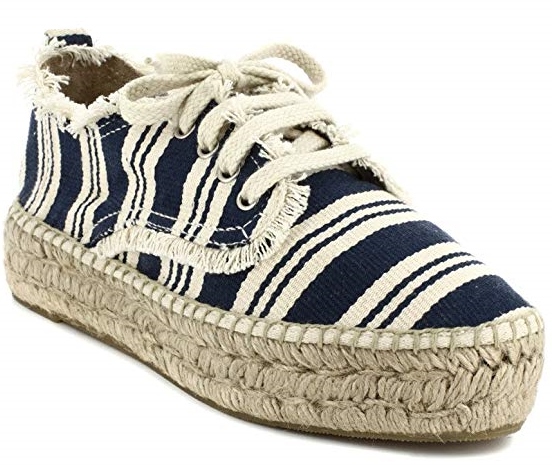 Llévalas con tus bolsos de pajilla para lograr la combinación perfecta de accesorios y acaparar todas las miradas.
Este  híbrido de zapatilla y esparto es ideal para ir de vieje, de compras o  caminar por la ciudad. Tan sencillos o elegantes como quieras conseguirlas, las zapargatas existen para todos los looks. Desde simples modelos en blanco hasta los más glamorosos  que vienen forrados con glitter, hay una sneakerdrille perfecta para tu estilo.